A closer look into the night Ricky Carmichael's first championship hopes ended.
Jimmy Perry had seen enough and he let the teenager know it. Just 17 at the time, Ricky Carmichael's chances of winning the 1997 125cc East Supercross Championship had plummeted to 0% and Perry seized on this teachable moment to launch into a lecture.
Perry, team manager of Pro Circuit Kawasaki, wasn't upset about the lost title hopes. Realistically, hope evaporated weeks earlier; Tim Ferry had been far too consistent and steady through the entire season, Stephan Roncada was on a roll and even John Dowd would still be ahead of Carmichael in the points had he not broken his finger between rounds four and five.
"When you know that you are the fastest, you must slow down and allow the race to come to you," Perry says he remembers telling Carmichael in or around the race truck. "Every crash is allowing for injuries that can end a season. Sometimes racing is the long game."
It was late in the evening, April 12, 1997 and Carmichael had, on paper, a good race, third overall at the Pontiac Supercross. In context, however, Carmichael had thrown away (another) victory when, on the first lap of the main event, he squirreled out over a small tabletop and spun himself backwards down the landing. He had 20 other riders right behind him but, luckily, was far enough to the edge of the course that he escaped getting landed on.
"I wasn't even trying that hard," Carmichael said 26 years later. "It was just a simple mistake. Weeks before that, when I'd crash I was really just over-riding so that was the frustrating part on my end." Carmichael remembers the talk with Perry as being "tough".
Perry was exasperated because the kid's impatient and zealous riding style put his entire career on the line every race. It didn't take two eyeballs to see that Carmichael was much faster than the field in 1997 but his crash-or-win style gave management an ulcer. Carmichael's finishes through six of seven rounds were 19-1-6-1-10-3.
Carmichael's average supercross finish position in 1997 was 5.9, whereas Ferry's was 2.6 (Dowd's was 2.5 before he dropped out).
Ferry left Pontiac with a 13-point lead but another second overall frustrated him. It was his fifth runner-up finish of the season. The track was a rutty mess that most riders were just trying to survive on. Ferry had two miserable, mistake-filled laps around the halfway mark and he lost position to both Scott Sheak and eventual race winner Stephan Roncada. Sheak, who looked like he was operating a jackhammer through the whoops, crashed twice, once while leading and again on the final lap, which is how Carmichael wound up on the podium.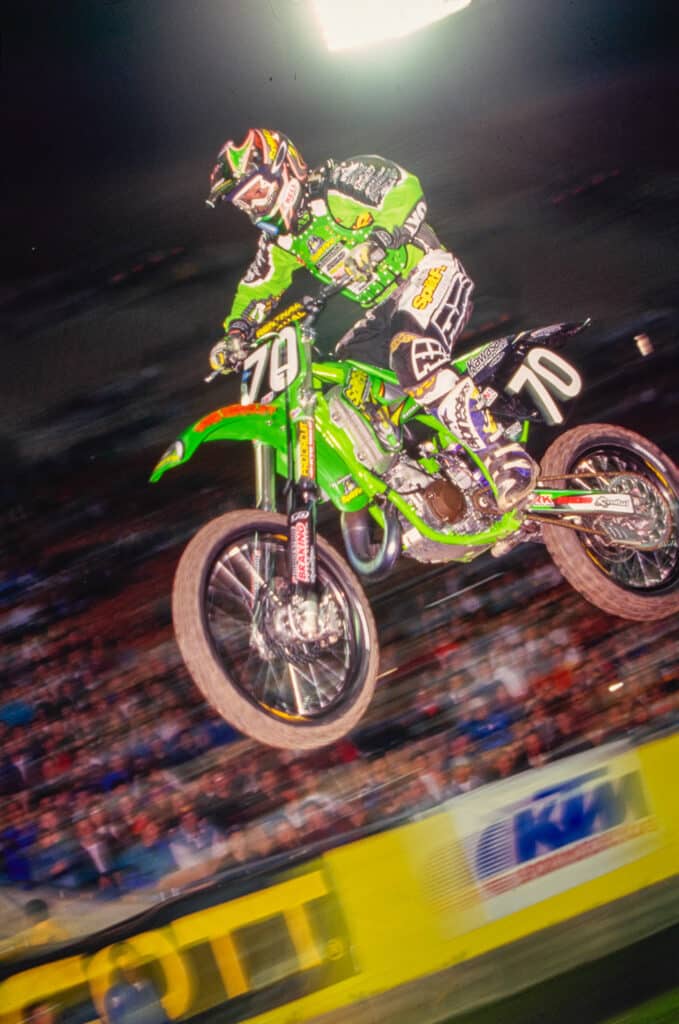 "I could have ridden a little better," Ferry told Kit Palmer of Cycle News. "At least I'm not crashing out every race."
Ferry won the championship a week later in Charlotte after a third place finish. He didn't win any of the seven main events. Carmichael won three of them, Roncada two and the third winner was Dowd, who won two of the first three rounds in 1997, a generally lost-to-history-detail. Dowd led the championship twice that season and had a two point lead over Ferry after round four. When he broke a bone behind his right pinky finger in a practice crash before round five, he dropped out of the series.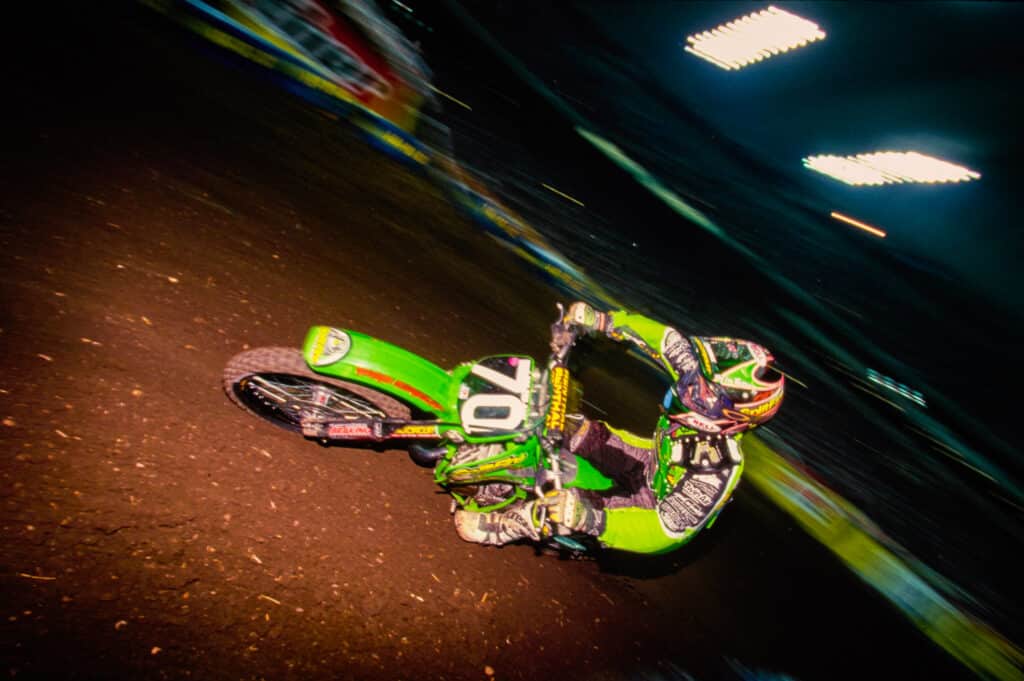 The 1997 Pontiac Supercross has a unique place in the sport's history but not because of what happened on the track. Well, there were several racing surprises: Sheak and Carmichael both crashed away their chances of winning in the 125 class and the biggest shock of the night was Jeremy McGrath washing out on the 18th (of 20) laps and handing the lead to Ezra Lusk, who was about four seconds behind.
The biggest idiot move I ever…

Jeremy McGrath
In what he called "the biggest idiot move I ever…" McGrath grabbed too much front brake entering a fast left hand corner that followed a tricky triple jump. Trying to avoid the corner's deep rut, McGrath tucked it hard and wound up on his face with his legs pinned under the seat of his RM250, which was upside down.
"The clutch cable popped out of the lever," McGrath told We Went Fast via text message. "It took me a minute to get it posted in again. I think I got Bradshaw in the last corner." (he did, and it was a clutch move).
Had McGrath not crashed, he likely would have won and left Pontiac with a five point championship lead over Jeff Emig, rather than two points down. He finished fourth.
So maybe the '97 Pontiac race does have historical 'what-if' implications but the most memorable and historically enduring event happened in a fraction of a second in the 17th row of the stadium's lower bowl.
At the end of the second 125cc heat race, fan and amateur photographer David St. Onge followed Carmichael through the viewfinder as he approached the finish line and–click–took exactly one photo of the kid in the air. Laying the bike completely flat after a heat race win summed up Carmichael's rookie season; completely unpredictable.
"Man, I think I might have got something there," St. Onge remembers saying to himself after taking the photo. "I think I might have got a good shot."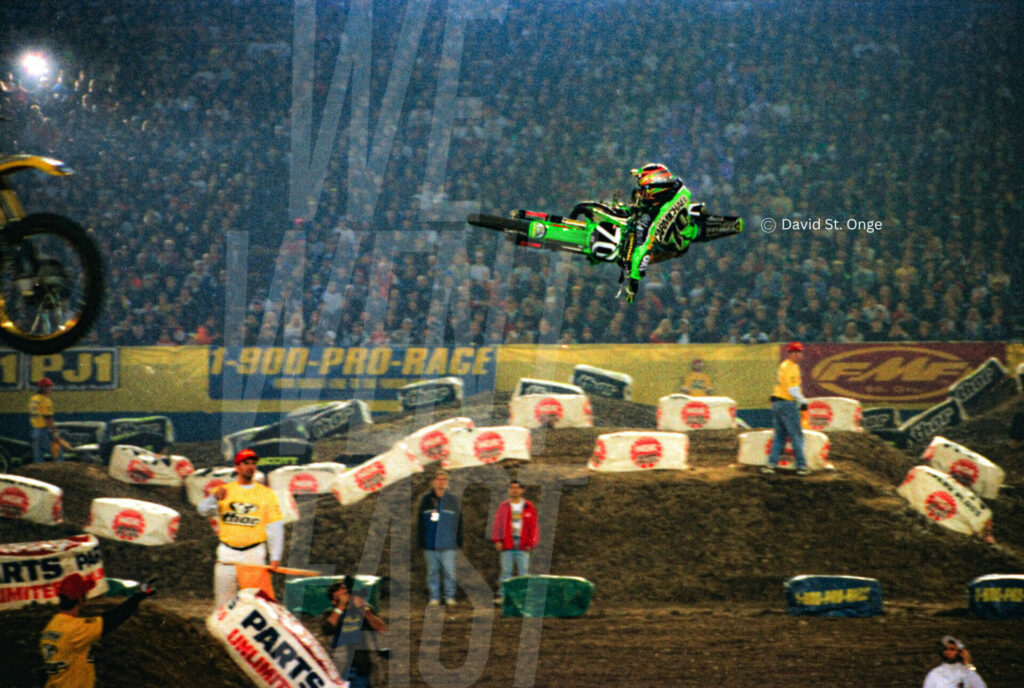 Carmichael remembers feeling completely out of control over the jump.
"I'm lucky that I didn't wreck," he says. "It was so rutted. Back then, the tracks used to get so rutted, as in you couldn't jump the triples the whole main event because they just got too rutted up the faces. But I landed [over the finish] and I'm like, "I can't believe I pulled that off and saved it and I didn't crash."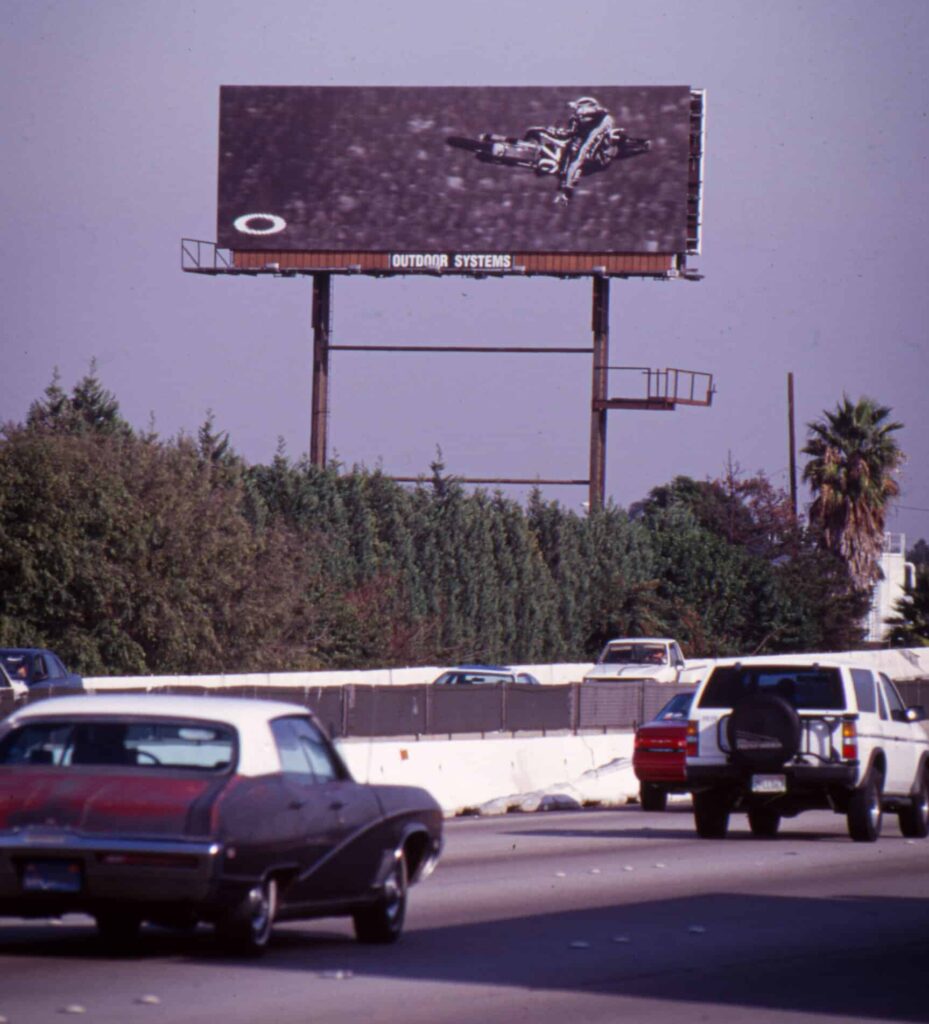 But Carmichael looks calm in the photo. The bike is completely on its side and his head and torso twist to the right, revealing the name and number on his jersey.
St. Onge's photo became one of the most iconic images in the sport, mostly due to the unbelievable journey it went on to end up plastered across a Southern California Interstate billboard.
That's the story of "The Most Expensive Photo in Motocross History", which is also available as an audio documentary.