There's been a LOT of opinions on the topic of Jett Lawrence waving Ken Roczen by and "gifting" him the win in moto 2 of the premier class at Chicagoland Speedway. Of course there are opinions… it's one thing to let someone by, another to wave someone by, and yet another to talk about it on the podium. But I deal in Facts so let's look at the lap times and be objective. Novel idea, huh!?
A thorough analysis of the lap times from moto 2 shows that Ken Roczen had the pace to beat Jett Lawrence. First things first, I'm making this assertion based on the first 8 laps of the race. The likable and supremely talented Australian waved the #94 Suzuki rider past on lap 10 so that lap and everything after is compromised.
Lap 9 is also compromised. It's VERY obvious from the lap times that Jett started to do math in his head on lap 9 – he said as much on the podium. The evidence: Jett's lap 8 was his 3rd best (and 4th fastest overall) and his lap 9 was his 8th best (25th fastest overall). Can we all agree it's not a good idea to do math while racing!? Glad we can agree.
As you can see from the chart below, Jett Lawrence was faster in 6 of 8 laps, but that ultimately is just a 0.155 seconds per lap advantage! On a track where they averaged a 1:53's lap time, that's nothing. It's especially nothing with 4 laps to go in moto 2 and tons of bragging rights are on the line.
Lap 1 thru 8 Time Advantage
Take a deeper look at that chart… Ken was clearly faster on lap 1 and lap 7. Jett was clearly faster on lap 2, lap 5, and lap 6. But laps 3 and especially laps 4 and 8 they were running the same pace – separated by a total of 0.24 seconds in those 3 laps. With this somewhat "big brain" math, I believe Ken Roczen had the pace to beat Jett Lawrence.
Jett Lawrence was only 0.14% faster than Ken Roczen through the first 8 laps of moto 2 at Chicagoland Speedway
Haters will hate and tell me that Jett was faster and I'm cutting hairs but I'm not going to bank on a 0.155 second or 0.14% advantage, especially not in front of 30K+ spectators and hundreds of thousands of TV viewers.
BE SURE TO CHECK OUT THE WE WENT FAST SHOP…
What's really interesting (at least for me, maybe you!?) is where the #18 and the #94 had an advantage on the track. Looking at the segment times, we see the #18 was faster in 4 of 5 segments and the #94 was faster in just 1 of 5. But here's the thing. Here's what makes racing awesome. That 1 segment that Ken Roczen had an advantage was enough to eliminate nearly all of Jett's advantage in the other 4 segments.
Segment Time Advantage
You can see from the above chart that the Suzuki pilot had an advantage in Segment 4 while the Honda pilot had an advantage in segments 1-3 and 5 In total, Jett had a +0.78 second advantage in 4 segments and Kenny a +0.63 advantage in 1 segment. Again, just a 0.155 second advantage.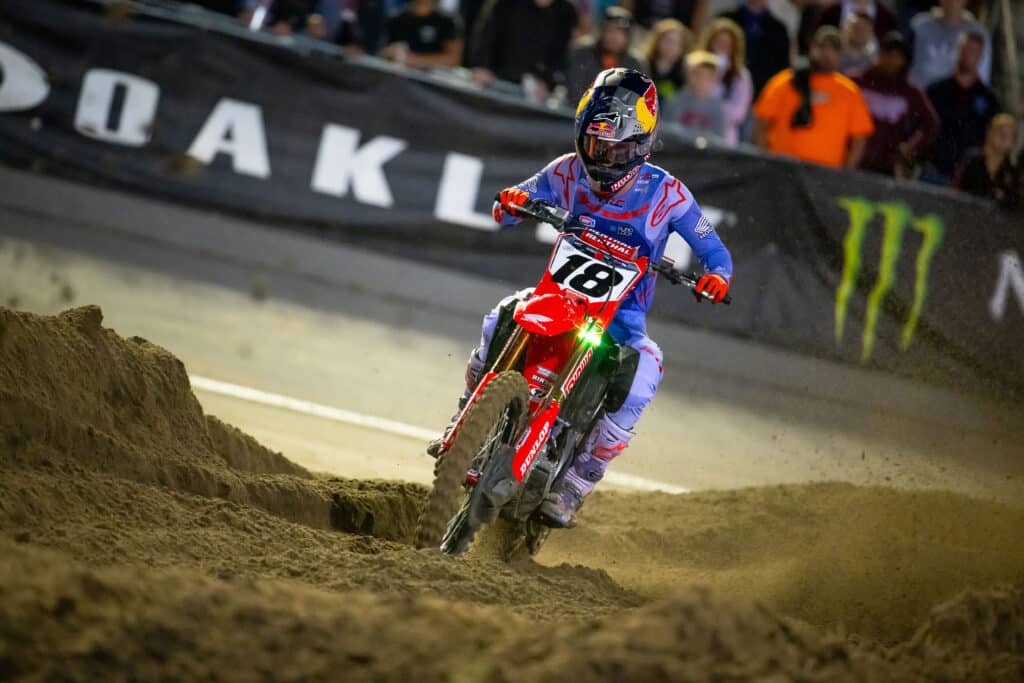 It was literally 2 turns that made the difference! Ken Roczen's outside line after the long straight re-entering the stadium in segment 4 vs. Jett Lawrence's inside line in the sand turn in segment 2. Curious about the segments – here's the trackmap with the segments noted. For the video version of this analysis, tune into this weekends Race Day Live on Peacock and watch Fowler's Film Room!
If you enjoyed this analysis, consider picking up a tee shirt in the We Went Fast shop. Your generous purchasing funds our ability to share these stories and stats with you!