The first time I met Art Eckman, I interrupted him. I also learned a lesson I still work on today: listen twice as much as you speak.
In June 2000, Eckman and David Bailey sat around the break room table at 117 Governor's Square Parkway in Peachtree City, GA. They were preparing to call the action of the tape-delayed ESPN coverage of the Southwick Pro Motocross National.
An aside: this essay assumes you already know who Art Eckman is. If you don't, here's a severely truncated resumé: nearly 60 years in sports broadcasting, two-time broadcaster of the year winner, the voice of moto for over ten years with a voice that is simply unforgettable. Watch his call of Jeremy McGrath's 72nd and final Supercross win in Jan. 2001.
Eckman had a yellow legal pad in front of him. It was filled with notes, sentences, statistics. Art carried those legal pads everywhere so he could be ready to write when ideas struck. There was no "research department", nobody fed him stats or kept track of data like we do now.
So Eckman did all his own stunts and he tracked them all on legal pads.
In the summer of 2000, I was an intern at the production company that produced the Pro Motocross National Championships that aired on ESPN2. I was 20, overeager, and just happy to be in the building.
But I still wanted to show off all the random motocross knowledge I had stored in my head and prove that there was some value in reading issues of "Motoross Action" and "Cycle News" rather than books. No one at the University of Michigan cared (or knew) who Ricky Carmichael or Sebastien Tortelli were. These were my people.
Peachtree City, GA was exactly 809 miles from where I lived in Clio, MI (this was my riding # so it was meant to be). I literally begged the company to take me on for the summer. I called and wrote emails until they caved. It was unpaid, no housing provided. They didn't think I would actually show up.
The logistics of how I figured it all out is another story. When you want something bad enough, you figure it out.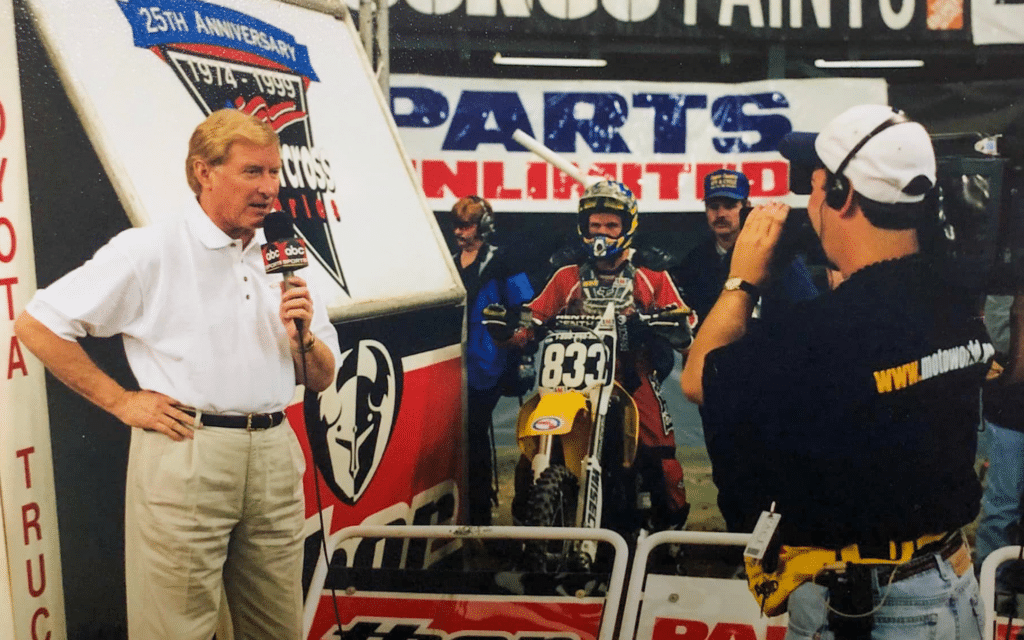 In the company break room, Eckman and Bailey discussed an obscure statistic about foreign-born athletes to win the premier class at Southwick.
Being tape-delayed coverage, everyone already knew who won the race but they planned and prepared their calls just as they would if it was a live race call or 'live to tape' as Supercross was back in 2000.
Tortelli, a Frenchman, had won the first moto at Southwick. Carmichael finished 5th. Eckman had set up talking points around the lack of foreign-born athletes winning at Southwick so he and Bailey had something to discuss in the event that Tortelli was on his way to victory in the second moto. Tortelli certainly would have been the first French rider to win the overall at Southwick (surprisingly, Jean-Michel Bayle didn't win there).
FAST TRIVIA
As a broadcaster, Art Eckman called it all; football, Olympics, Supercross, boxing and more. Which of these sports did he NOT cover.
I can't remember what Eckman said that led me to open my mouth and attempt to correct him with this: "Actually, Pierre Karsmakers (he's Dutch) won at Southwick in 1976." I think I even stepped forward and poked my finger at something written on his legal pad.
Silence. Bailey and Eckman looked up from their notes at the kid who had previously stood against the wall.
My memory says Art, in his deep baritone voice, probably said, "Young man, don't let the facts get in the way of a good story."
Whatever he said, he put me in my place. He hadn't finished making his point. Karsmakers won in 1976, yes, but Jeff Ward won in 1988. Even though he's an American, Ward was born in Glasgow, Scotland. It was all in the context of delivery. Ward was, technically, foreign-born. No detail was too small or obscure for Art.
Young man, don't let the facts get in the way of a good story

Art Eckman
Thankfully, guys like Leigh Diffey and Jason Weigandt hold the same values when it comes to information and history and accuracy. Art paved that path.
In the end, the stat didn't pay off. Tortelli didn't even win (1-5). In a rare flip-flip of moto finishes, Carmichael did (5-1).
In another interesting statistic, however, Carmichael was the 9th different winner in 9 years at Southwick in the 250/450 class. Eckman, of course, was all over that one and even pointed out that Jeff Stanton (at the time) was the "King" of Southwick with four straight wins (1989-1992).
Art forgave me after the interruption. I eventually earned a proverbial 'seat at the table' to help him prep. I learned a lot working with Art that summer and in the years that followed (I moved to Atlanta in 2001).
In 2003, ESPN moved Todd Harris into the play by play role of supercross and motocross coverage. Art called all the sports at one time in his life (from the NFL to the Iditarod) and interviewed them all (from Mantle to Magic to McGrath). But he loved Supercross so much that, instead of moving on to the next sport, he spent the 2003 season as the sideline reporter of the webcast crew.
This black and white photo above is from that gig. Look closely at the notepad. This specific page folded over is his 'cheat sheet' for Ernesto Fonseca #24, who got "up to 3rd on lap 7 last week" and is the "only rider to win 125 titles in E&W".
Eckman kept just-as-detailed notes as he did when he was the TV voice of the sport. He didn't think of it as 'just' a webcast. He got to tell stories of people doing amazing things and that's what mattered to him the most.
In 2003 we produced a special episode of ESPN's "MotoWorld" to commemorate Eckman's career in the sport. I'd love to see that again if anyone has a copy.
Art Eckman died on November 4. He was 81.