Cooper Webb has, officially, switched to Monster Energy Yamaha Star Racing for a "multi-year deal" after (almost) five seasons with Red Bull KTM Factory Racing.
It's (almost), because three races remain in the 2023 season. Championship-level riders don't often switch mid-season (James Stewart started the 2012 Pro Motocross season on a Suzuki after finishing 7th overall on a JGRMX Yamaha in supercross). But 2023 has been full of surprises and new adventures, the start of the inaugural SuperMotocross World Championship being one of them.
Cooper Webb 450 Career Comparison
Webb's 450 class career can be viewed as a tale of two Coops. The first Coop started 43 races on a Yamaha, won none of them, found the podium only twice and had an average Supercross finish of 9.7.
And, yes, we're aware that Webb is not returning to the same Yamaha team he started his 450 career on back in 2017 (more on that below). But numbers are still fun to discuss.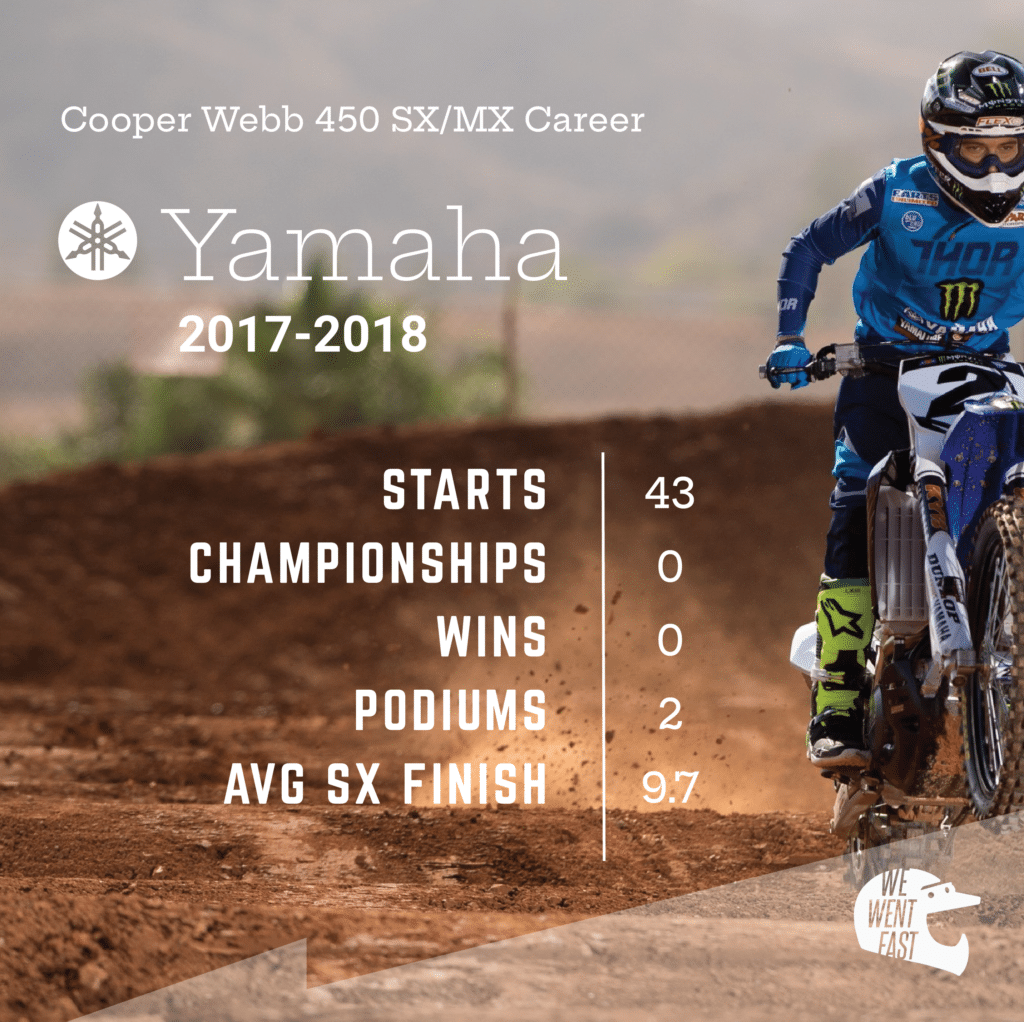 The other Coop rode a KTM, started 2.5 times more races, won two Supercross titles, 22 total SX main events and MX overalls, and found the podium 58 times, (54% of races started). With KTM, Webb was close to Ryan Dungey-like consistency in his first three seasons (2019-2021): 13 podium finishes in each of the 17 race seasons. But in 2022, he missed the podium in five of the first six races.
Which Cooper Webb will fans see throughout September in Charlotte, Chicago and Los Angeles? Which Cooper Webb will we see through the 17 rounds of the 2024 Monster Energy Supercross Championship? And will 2024 Cooper Webb find the winner's circle in the Pro Motocross Championship? After 90 450MX motos started, he has two wins and just one overall victory.
Cooper Webb Will Tell You What He Really Thinks
Webb doesn't hesitate to say what he thinks of a bike and how well it's working (or not) for him. In early February 2022, he voiced his struggles with the newly redesigned KTM. On press day at Glendale he told Racer X's Kellen Brauer, "When you're racing a different bike every weekend, it's hard to get comfortable," referring to how many changes he'd made in test sessions.
Visit the We Went Fast Shop!
In the final seven races of 2022, he only got in the top five twice and then withdrew from the motocross season. "It's been an uphill battle most of the season, and I straight up got my ass kicked," he said in a social media post.
Webb returned to Supercross in 2023, won Tampa and Arlington and even held the red plate for three rounds. He was in the championship hunt until a concussion at Nashville ended his supercross season.
He returned for the first four rounds of motocross but missed round five at RedBud in early July due to a practice incident. Then, on July 6, KTM dropped stunning news: "at this time, Red Bull KTM Factory Racing and the 27-year-old Webb have mutually agreed to part ways with immediate effect."
Will Cooper Webb Find Comfort at Yamaha?
Remember, while Webb's first two years in the 450 class (2017-2018) were on a Yamaha, they were not with Star Racing. Bobby Regan's team, which he started in 1999, took over Factory Yamaha's 450 program in 2021.
In 2021, with Dylan Ferrandis, Star took Yamaha to its first 450MX title since Grant Langston in 2007. In 2022, Star won the Supercross and motocross titles with Eli Tomac. It was the first Supercross championship for Yamaha since James Stewart (2009).
Yamaha redesigned its bike for 2023 and Eli Tomac quickly figured out the new platform. For the first time in his career, he won the opening round of the Monster Energy Supercross Championship and then came within an Achilles tendon of winning the 450SX title again.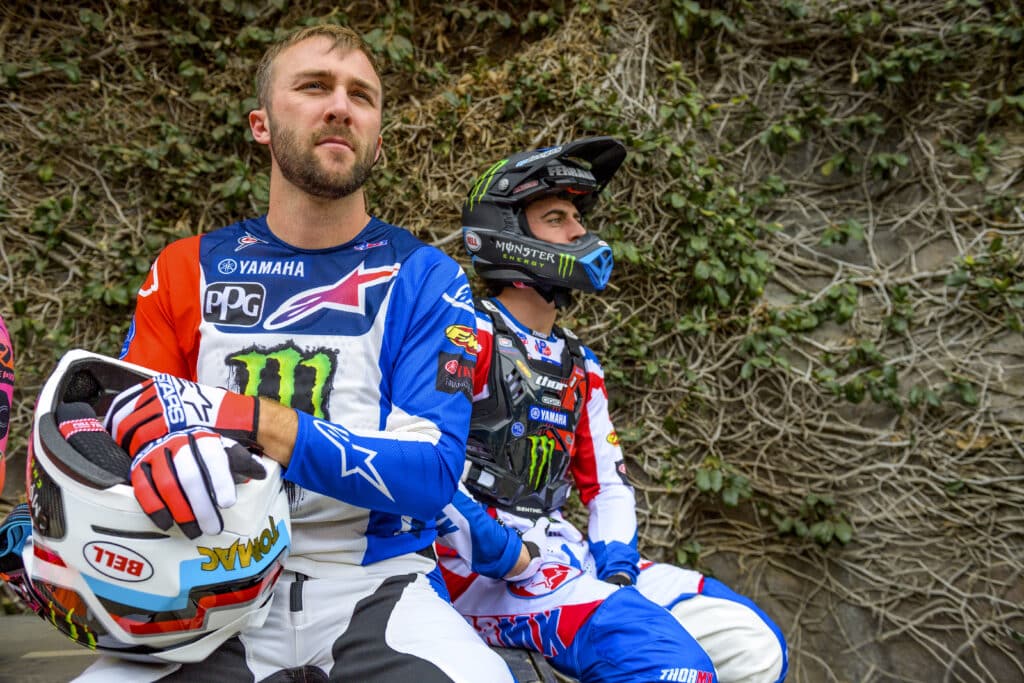 Ferrandis was also happy with the bike, until he wasn't. At the supercross season opening press conference he said, "The new bike suits me way better than the older one." Ferrandis started well, with 4-6-5 finishes before a concussion at Houston and another crash at Daytona put him out for the rest of the season.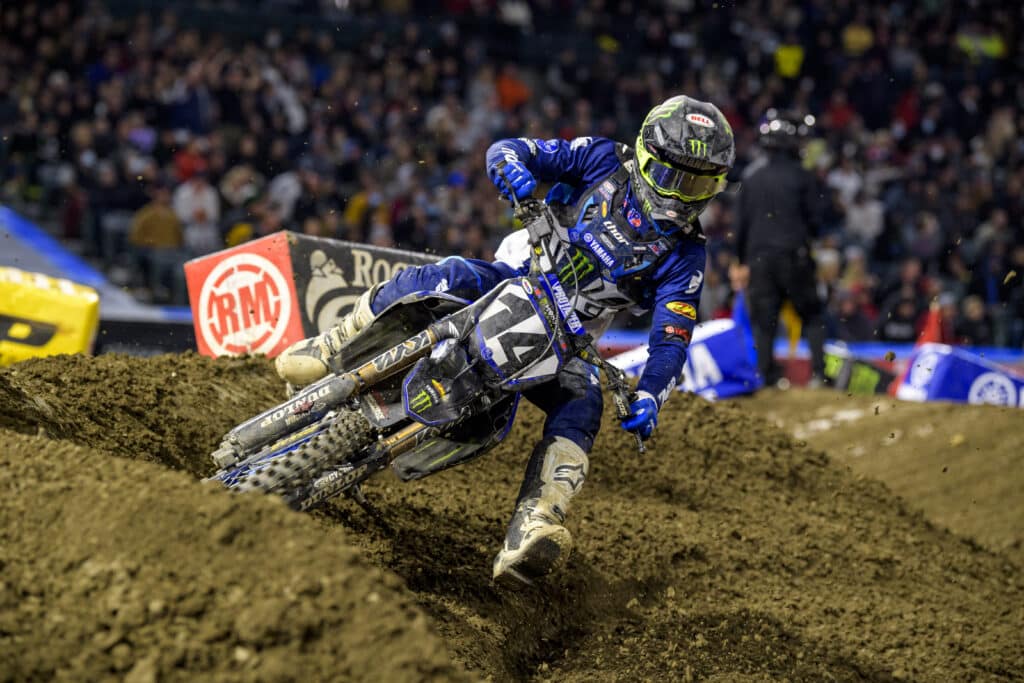 After a third overall at the Pala Motocross National, Ferrandis got candid in the press conference: "The last few weeks have been very tough for the team and myself. We've been struggling a little bit with the bike. That new chassis Yamaha 2023 was way better in supercross, but more difficult in motocross, at least for me. New bike is never easy, especially being the only one in a team."
Here's one certainty: Webb won't be the only one on the team in 2024. He will be joined by Eli Tomac and Justin Cooper. Three full-time factory 450 riders is rare.
And Tomac's return means four former/current supercross champions will line up in 2024 and two of those riders (who have won four of the last five titles) will be on the same team.
A Shining Star, Cooper Webb Comes Home.
Returning to Star Racing is a homecoming for Webb and he said as much in today's press release: "It feels like a family reunion," he said. "It's all the people that I started my career with, and I can't wait to go racing with them again."
Webb spent five seasons (2012-2016) with the team. In 2012, he beat Shane Mcelrath to win the 250 B Stock class at the Loretta Lynn's AMA Amateur National Motocross Championships.
At 17, he entered the 2013 Pro Motocross Championship and finished 9th overall. His first pro podium came at the final round in Lake Elsinore (4-3).
After 70 race starts with Star, Webb finished his 250 class career with two Supercross West regional titles and the 2016 Pro Motocross Championship. He won 18 total races and put his YZ250F on the podium 53% of the time, which is comparable to what he eventually did at KTM on a 450.
So… what Cooper Webb will we get? The 250 Star Racing Webb who won three championships?
The Factory Yamaha Webb who never sniffed a win?
Or the KTM Webb who found ways to win even when it didn't seem possible?